Clinton tells Trump to apologise for Obama 'birther' claims
Comments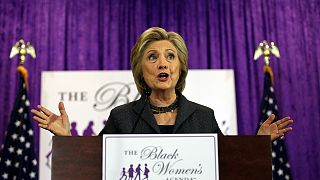 Hillary Clinton has said rival Donald Trump owes Barack Obama an apology after questioning the president's American citizenship. Speaking in Washington at an event with Black women, the Democratic presidential nominee blasted her Republican rival, claiming there was 'no erasing' Trump's so called birther history.
"We know who Donald is, for five years, he has led the birther movement to delegitimise our first Black president. His campaign was founded on this outrageous lie," Clinton said.
Clinton's comments came as Trump finally retreated from his ''birther'' campaign, which falsely claimed Obama was born outside the US, and said he wanted to move on from the conspiracy theory.
"President Barack Obama was born in the United States, period," Trump said.
However, the Trump accused Clinton of introducing the so-called 'birther movement' during the 2008 Democratic nomination contest. There is no evidence of this, and Clinton and her allies have denied the suggestion.
From Washington, Euronews' Stefan Grobe reported on the latest developments in the race for the White House.
''The presidential campaign has reached a new state of ugliness. After weeks of appearing to be more restrained and looking presidential Donald Trump is seeming to be back in cocky attack mode and slightly off message. In a interview he refused to say whether he believes President Obama was born in the United States. Thus, reopening the infamous birther conspiracy that has long been fact checked, debunked and put to rest. His campaign data walked back his remarks accusing Clinton to have brought up the issue first in 2008, which is false. Why is Trump still talking about it? Probably, because his poll numbers have ticked up in recent days, instilling in Trump a sense of victory. And democrats are starting to feel terrified. And ironically, that might be the secret weapon. The fear of a Trump victory might be the only thing that gets many disaffected democrats and independents to hold their nose and vote Clinton.''