Almost a billion litres of radioactive water leak through sinkhole
Comments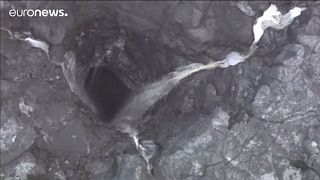 Around 980 million litres of radioactive waste water have escaped from a fertiliser plant through a sinkhole.
The incident happened at the end of last month after a 15-metre wide hole appeared adjacent to a storage lake belonging to the Mosaic company near Tampa.
The contaminated water contains slightly radioactive phosphogypsum, which is a waste product of the fertiliser manufacturing process.
A spokesman for the company said they were recovering the water using pumps and it had not yet mixed with groundwater supplies which are used as Florida's main drinking water source.
Trouble watching the video? See it on Euronews' YouTube channel