'It's great to be back' - Hillary Clinton returns to presidential campaign trail
Comments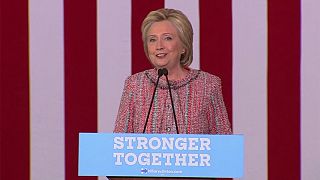 Hillary Clinton's back on the presidential campaign trail, after taking three days out to recover from pneumonia.
And she's facing a different political landscape, with Republican rival Donald Trump rising in opinion polls.
Undeterred, Clinton told supporters in North Carolina that she's a fighter.
"I confess, I'll never be the showman my opponent is and that's okay with me," she said.
"And I'll tell you something else, people accuse me of all kinds of things, you probably have seen that, but nobody ever accuses me of quitting and I will never give up, I'll never walk away, no matter how tough the going gets."
"It's great to be back on the campaign trail." —Hillary in North Carolina. Watch live: https://t.co/oa4NZ1hEHU

— Hillary Clinton (@HillaryClinton) 15 September 2016
Clinton nearly collapsed on Sunday at a memorial ceremony for the September 11th attacks in New York.
Trump has drawn even or taken a slight lead in national polls. They show he is now leading in battleground states of Iowa, Ohio, Florida and Nevada – and tied in North Carolina.
Great poll out of Nevada- thank you! See you soon. #MAGA#AmericaFirsthttps://t.co/3KWOl2ibaWpic.twitter.com/27sR3MjjXc

— Donald J. Trump (@realDonaldTrump) 15 September 2016