Autistic UK hacker faces extradition to US
Comments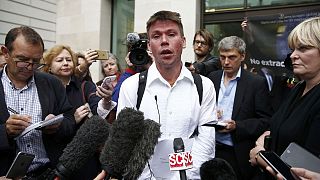 A London Court has ruled that 32 year-old Lauri Love should be extradited to the US to face charges of hacking US government computer systems.
it is not fair or just that a boy who's got mental health issues can be taken away from his family...

the accused's father
Judge Nina Tempia said: "I'm going to extradite Mr Love, but what I mean by that is that I'm going to send his case to the secretary of state."
Lauri Love supporters are staging a sit-down protest in the middle of the street outside Westminster Mags. pic.twitter.com/4rWTzCObvV

— CourtNewsUK (@CourtNewsUK) September 16, 2016
Leaving the court with his father and lawyer Karen Todner, Love told reporters: "I thank the judge for giving us an opportunity to win at a higher court and set a stronger precedent, so I think this only helps the causes of securing better justice. It's unfortunate for me and my family that we have to go through another six months or a year of legal stuff, but it's what we have to do."
A judge says autistic man Lauri Love can be extradited to the US to face hacking charges. His father isn't happy. pic.twitter.com/wont4ohpGt

—

ITV

News (@itvnews) September 16, 2016
Suicide risk
Love, who was deemed a suicide risk, has Aspereger's syndrome and suffers from depression. He is accused of stealing 'massive amounts of data' from the FBI, US army and Department of Justice. He said that he will appeal the decision at the High Court and is willing to go all the way to the European Court of Human Rights.
'Exacting vengeance'
His father Rev. Alexander Love added: "It is my belief that it is not fair or just that a boy who's got mental health issues can be taken away from his family, who are his support network, merely to satisfy the desire of the Americans, to exact what I feel is vengeance on him."
Lauri Love's case parallels Gary McKinnon's who also has Asperger's syndrome and faced similar charges. In 2012 then Secretary of State,Theresa May, blocked the extradition before taking away such powers from the Secretary of State and handing them over to the courts.
Anonymous
Love is allegedly part of the hacktivist group 'anonymous'.He is said to have carried out the cyber attack as part of a 2012-2013 campaign to protest the death of Aaron Swartz, a hacker who committed suicide whilst on trial. According to his lawyers, he faces a maximum of 99 years in prison and fines of $9 million.