Wiggins and Froome have medical records leaked
Comments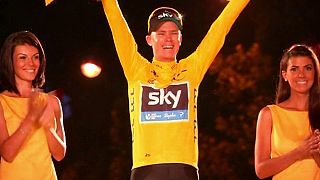 A group of hackers that accessed the World Anti Doping Agency's database has released more confidential medical files of high-profile athletes.
The group allegedly from Russia and go by the name of Fancy Bears released data of 25 athletes on Thursday including three-time Tour de France champion Chris Froome and five-time Olympic gold medallist Sir Bradley Wiggins.
Data leaked include controversial Therepeutic Use Exemptions (TUEs) that allow athletes to use banned substances due to medical needs.
Although there is nothing to suggest the athletes have broken anti doping rules it does intensify the debate over whether TUEs are being over-used and are the perfect way to bend those rules and escape punishment.
Czech tennis player Petra Kvitova, a two time Wimbledon champion, also had her medical data released as did Olympic shot put champion Michelle Carter and German Robert Harting the former Olympic, World, and European discuss champion.
Many of the medical exemptions were already known.
On it's website hack group claims it stands for ''fair play and clean sport" and that TUEs are "licenses for doping".
Four-time US Olympic gold medal winning gymnast Simone Biles, tennis stars Venus and Serena Williams and US Basketball player Elena Delle Donne had their medical records leaked on Tuesday.