US agrees a record military aid package to Israel
Comments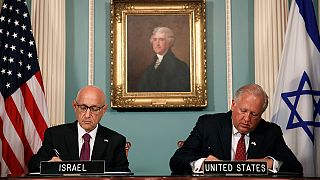 After 10 months of talking, Washington has agreed a record 38 billion dollar military aid package for Israel.
It's a reminder of the United States' unshakable commitment to Israel's security

US National Security Adviser
The deal signed on Wednesday, will allow Israel to upgrade most of its fighter aircraft, improve its ground forces' mobility and strengthen its missile defense systems.
National Security Adviser Susan Rice:
"This is the single largest pledge of military assistance-to any country-in American history. It's a reminder of the United States' unshakable commitment to Israel's security."
The drawn out talks underscored continuing friction between the US and Israeli leaders over the nuclear Iran deal. But to avoid uncertainty with a new US presidential administration, Premier Benjamin Netanyahu signed.
The U.S. Is Making a Historic Investment to Protect the Security of Israel https://t.co/vFy3cDRzYe

— The White House Blog (@blog44) September 14, 2016
"I would like to thank President Obama and his administration for this historic deal. I also thank our many, many friends in the American Congress and the American people for their support, bi-partisan support from the United States," Netanyahu told viewers in a televised address.
While the package constitutes the most US military aid ever given to any country, it does entail concessions by Israel according to officials on both sides.
Those include Israel's promise not to seek additional funds from Congress beyond what will be guaranteed annually in the new package, and to phase out a special arrangement that has allowed Israel to spend part of its US aid on its own defense industry instead of on American-made weapons.
The aid is seen as vital to Israel's security in an unstable region. However pro-Palestinian groups claim it rewards Israel despite the ongoing construction of Jewish settlements in the occupied West Bank.
The settlements are considered illegal under international law, though Israel disputes this.
.WhiteHouse</a> continues to reward Israel with American tax dollars as Israel continues to violate international law <a href="https://t.co/KyozY2cOnV">https://t.co/KyozY2cOnV</a></p>&mdash; Blanca (RenegadeB3) September 14, 2016