Trump shares limited medical info with TV celebrity 'Dr. Oz'
Comments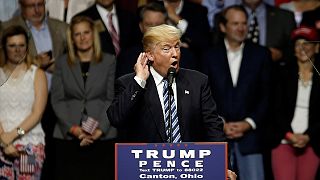 With health now an election issue, both US presidential candidates have moved to show their medical fitness.
And in an act of classic Trump showmanship he chose to do it on a chat show.
In a recorded interview with TV medic Dr Oz, Trump pulled out a summary said to reveal he is in good shape although overweight.
267 pounds isn't healthy. https://t.co/aWN0SQ1A2V

— Mike Anderson (@m_anderson2015) September 15, 2016
Dr. Oz asked: "If elected, at age 70, you will be the oldest person to ever enter the Oval Office. Why do you think you have the stamina for the job?"
Donald Trump responded: "Yeah, just about the same age as Ronald Reagan and Hillary is a year behind me. I would say, just based on my life, I mean I've had… I've actually… I don't know if this makes sense, I feel as good today as I did when I was 30."
The TV interview, to be broadcast today (Sept.15) is said to have given the appearance of transparency, but critics say it fell far short of detailed information about Trump's health.
Catsimatidis, who knows both Trump and Dr. Oz, says of Trump, "He looks awfully healthy to me." https://t.co/h8ZrydIHIi

— Maggie Haberman (@maggieNYT) September 14, 2016
I'd vote for a sick, dying/dead Hillary Clinton before I'd vote for a perfectly healthy and living Donald Trump

— griffin (@dave_skylurk) September 13, 2016