New marine sanctuaries aim to protect oceans for future generations
Comments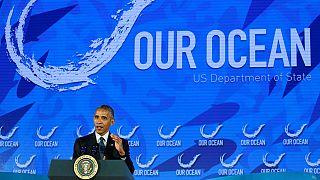 The US has joined more than 20 other countries in creating 40 new marine sanctuaries around the world.
The aim is to protect oceans against the threat of climate change and pollution.
Unveiled at a Washington conference, they will limit commercial fishing, oil and gas drilling and other human activity.
"Nature is actually resilient if we take care to just stop actively destroying it, that it will come back," US President Barack Obama told those attending the event.
"And certainly the oceans can come back if we take the steps that are necessary. I saw it."
In all, the new sanctuaries will cover almost 1.2 million square kilometres – an area around the size of South Africa.
Actor Leonardo DiCaprio is among those calling for bold action.
"Today our seas are warmer and far more acidic, weakening the shells of marine creatures and destroying coral reefs that we all depend on for life," said DiCaprio.
"The only way we can avert this disaster is by scaling up innovative actions and solutions to these problems as quickly as possible."
Obama has designated the first US marine reserve in the Atlantic Ocean, an area known for underwater mountains and canyons, off the coast of New England.