French unions stage last-ditch street protests against new labour law
Comments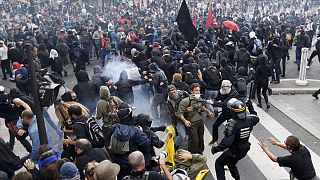 Unions in France have vowed to keep fighting the country's new labour law, but admitted on Thursday that dwindling support meant months of street protests were now ending.
In the French capital, around 40,000 people rallied according to the hardline CGT union.
The strike was part of a day of nationwide action against the now adopted legislation.
In addition to Paris, Marseille and several other French cities saw protests.
The new law, forced through parliament in July, aims to help France's rigid labour market become more flexible by making it easier for firms to hire and fire.
But Unions say it damages hard-won worker rights.
''I don't know if a conservative government would have changed the law, anyway I'm protesting against it. It's my 13th day of strike action. Financially, it's been costly for me, but I want to show the government my discontent,'' one woman said.
''We're not giving up anything, we angry, very angry, and they'll take notice in 2017,''said another.
While the demonstrations generally passed off peacefully, in the western city of Nantes sporadic violence broke out between some protesters and riot police.
Despite fading support for street action, union leaders say they intend to challenge so called application decrees – documents which will spell out exactly how the new labour law applies on the ground.