Slovenian Ceferin succeeds Platini as UEFA president following landslide election
Comments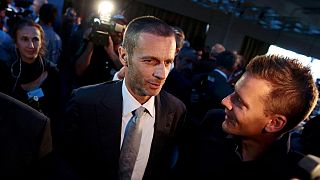 Aleksander Ceferin completed his meteoric rise through the footballing ranks on Wednesday when the Slovenian was elected president of European football's governing body UEFA.
The 48-year-old lawyer, who has been the head of the Slovenian FA since 2011, beat the only other candidate Michael van Praag 42-13 in the poll.
On being elected Ceferin said: "My beautiful Slovenia is very proud about it. And I hope that one day you will also be proud of me. Thank you very much"
Van Praag, 68, has headed the Dutch FA since 2008 and is also a Uefa vice-president.
UEFA General Secretary Theodore Theodoridis hopes Ceferin's election will help bring stability to the organisation, which has taken a massive hit to its credibility following allegations of corruption linked to the FIFA scandal.
He said: "We have a new president after a year during which we faced situations that you all are aware of. I hope from now on we will move forward so that this organisation will become even better."
In addition to Ceferin's promotion to European football's top job, Evelina Christillin was elected uncontested as UEFA's female representative on the FIFA Council.
The 60-year old Italian said: "I will try to do my best for representing UEFA first of all and women too, and I am very passionate with women's football. So I hope this will help in promoting and boosting female movement in football, and sports in general."
Ceferin succeeds Michel Platini, who was banned last year for an ethics breach over a "disloyal payment" made to him in 2011 by then Fifa president Sepp Blatter for work done nine years earlier.
Platini was allowed by FIFA to address the Extraordinary Uefa Congress and he used the occasion to maintain his innocence.
The Frenchman said: "Ladies and gentlemen I want you to know that my conscience is clear and I am certain that I have done nothing wrong. And I continue my legal fight…. There is one football. It doesn't belong to FIFA, it doesn't belong to UEFA but it belongs to us, it belongs to everyone."
As Platini exits stage right Ceferin enters the UEFA scene from the other side and becomes the seventh president of the governing body.
Euronews' Ioannis Karagiorgas was in Athens and explained: "UEFA' s new president was elected by a landslide. However his position is already very difficult. He needs to find a solution on the integrity of European football in general and the European association in particular while at the same time he must find a way to calm down reactions on the new financial deal on the Champions League."
Uefa and European clubs recently agreed changes to the Champions League that will heavily favour the big four leagues, but it has angered the European Professional Football Leagues (EPFL), who believe this will have a detrimental effect on the continent's smaller leagues.
The major change agreed upon last month was that Europe's top four domestic leagues, England, Italy, Spain and Germany will be guaranteed four places each in the group stages of the Champions League from 2018-19.
Ceferin said UEFA should show the clubs "we are the ones who are the governing body".