Russian arctic meteorologists besieged by polar bears
Comments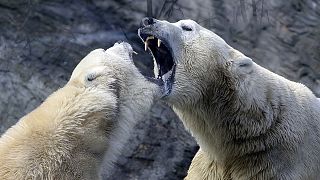 Five meteorologists working on Russia's Izvesti Tsik Islands are trapped in their base, and have been for almost two weeks, because they are besieged by polar bears.
Located 4,500 km away from Moscow in the high arctic, the meteorologists are surrounded by a dozen hungry bears, some of whom sleep underneath the station's windows at night, station chief Vadim Plotnikov told Russia's TASS news agency.
"The bears have actually been spending the night under our window since Saturday," said Plotnikov. "It's dangerous to go outside, and we've had to stop some of our work."
The team says they have run out of supplies needed to scare the bears away and they are resupplied only once a month from the mainland. One of the scientist's dogs fell to, and was eaten, by the polar bears.
But relief is coming – from 1,930km away. Another weather station in Arkhangelsk will send much-needed supplies including flares and squibs, which detonate harmlessly, to help relieve the siege.
It will take a week for the supplied to arrive.