Pope Francis declares murdered French priest a 'martyr'
Comments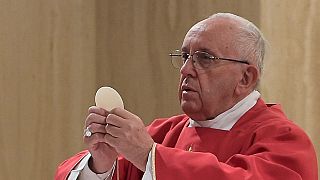 Pope Francis has described a priest who was killed by two Islamist extremists as a martyr.
Father Jacques Hamel was knifed to death in northern France in July.
During a special mass at the Vatican on Wednesday, Francis indicated the 85-year-old priest was already on the road to sainthood and expressed his wish that all religions declare ''killing in the name of God Satanic.''
Beatification is one of the first steps in the complex process that leads to sainthood in the Catholic Church. Usually a miracle is needed for a candidate for sainthood to be beatified. However, that requirement can be waived if there is evidence that the person died a martyr.
Among those attending the service in Rome was the slain priest's sister Roselyne Hamel.
''I had planned, with my brother, Father Jaques Hamel, to come to see the Pope in 2017, to assist in his Mass and see the Pope; he'd felt like doing it for a long time, but he said: "In the parish there are still things to be done, and may be I won't have time", but, since he was aging, I told him: "Jacques it is necessary that you give yourself this joy of going to see the Pope'', and finally he told me yes. So, I am here in his place, in his memory and for the sacrifice of his life. And ending it with such a sacrifice at the altar, the message must be strong, must be great , it should not stop there. All communities, all faiths should hold each other by the hand, so that like him, there will be sharing and tolerance between all faiths and all peoples.''
The murder of Father Hamel was the first Islamist attack on a church in western Europe.
It came just 12 days after a Tunisian man, who had pledged allegiance to ISIL, killed 84 people by driving a truck into Bastille Day revellers in the southern French city of Nice.