Fears online sex tape shame prompted suicide
Comments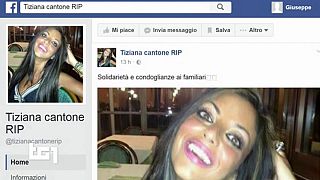 An Italian woman who was subjected to online abuse after an explicit video of her went viral has killed herself.
Footage of Tiziana Cantone carrying out a sex act on a man was uploaded to the internet last year. She apparently made it in a bid to make her ex-boyfriend jealous.
It was later circulated on several social networks, including Facebook and WhatsApp leading to a blitz of online abuse and parodies. Despite trying to get the video taken down, it kept re-emerging and Cantone eventually left her native Naples and moved to rural Tuscany.
Experts in Italy say the case shows the real risks surrounding online platforms.
''Many people are simply unaware of the dangers surrounding social networks. They are a world without limits in which once we've made a comment, posted an image: controlling these sites; controlling the files; becomes very difficult to manage,'' said Antonello Soro, President of the Italian Data Protection Authority.
An investigation has been launched into the 31-year-old's suicide. Cantone is reported to have been in the process of legally changing her name when she died.