Venetians march to take back their city
Comments
By
Euronews
with
La Nuova, The Telegraph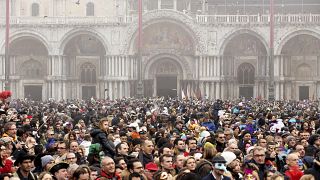 Residents of Venice have banded together to fight against mass tourism.
"We want our city back," chanted hundreds as they marched through the Italian city armed with pushchairs and wheeled shopping bags.
Protester group Generation '90 organised the rally. Concerns aimed at visitors include a reported lack of respect for the city and its inhabitants.
"We are in favour of Venice and Venetians, and those of us who are exiled in (nearby) Mestre want to come back to Venice," journalist Mario Secchi explained.
Some demonstrators carried a banner reading "R-Esistiamo," meaning both "We resist" and "We exist."
"More than 1,000 people participated with pushchairs and shopping carts. We had a beautiful walk to the Rialto Market, to take back the city, and to show unity among all the groups and citizens' associations. This is a city that exists and wants to resist, it needs its normality and its daily business – we are here and we want to continue to live here," said Generation '90's Marco Caberlotto.
According to a report in Venetian newspaper La Nuova, the World Heritage-listed city received 74,000 visitors a day in 2015.
Annually, the number of tourists is thought to total 34 million, which protesters say is too many for the site to handle.