US athletes confidential medical records leaked following hack of WADA database
Comments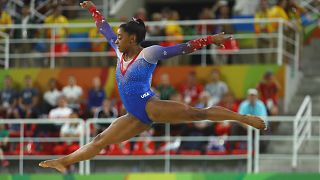 A group of Russian hackers calling themselves 'Fancy Bears' on Tuesday leaked confidential medical files of some US athletes, including four time Olympic gold medal winning gymnast Simone Biles and tennis superstar sisters Serena and Venus Williams.
The group hacked the database of the World Anti doping agency (WADA) and the files leaked detail "Therapeutic Use Exemptions", which allow athletes to use banned substances due to medical needs.
Biles and the Williams sisters come up in the report on the hackers website as having allegedly been found guilty of using banned athletic performance-enhancing drugs.
The hackers claim that they are part of an International hack team and stand for fair play and clean sport.
Russia's track and field team were banned from the Rio Olympics over claims of a state-backed doping programme and Fancy Bears accuse WADA of being biased and not punishing the US athletes for alleged doping.
Confidential medical data of American basketball star Elena Delle Donne has also been leaked.
This, however, is as Fancy Bears put it, 'the tip of the iceberg'.
The group has pledged to release more confidential records from other athletes and national Olympic teams.
While WADA confirmed they had been the victim of cyber espionage, the Kremlin denied they or their secret service had any involvement in the hack.
#SerenaWilliams#VenusWilliams are doping addicts#OpOlympics#FancyBears#WADApic.twitter.com/TAwDtxOmUY

— Fancy Bears' HT (@FancyBears) September 12, 2016
#SimoneBiles leaked data#doping#WADA#OpOlympics#FancyBears' pic.twitter.com/pPdZ2qfd6R

— Fancy Bears' HT (@FancyBears) September 12, 2016