UK Brexit minister says legislation may be needed
Comments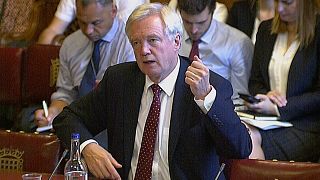 The UK minister in charge of Brexit, David Davis, says parliament may have to ratify legislation needed for the UK to successfully leave the European Union.
Mr Davis said on Tuesday that "There has to be some legislation (to leave the EU), no doubt".
In comments made to a parliamentary committee, he added that Article 50 will not be triggered until his department, the Department for Exiting the EU, is fully staffed. It is thought that approximately 50% of the roles within the department are currently occupied.
It is understood that PM May wants to avoid a vote in the House of Commons.
However there have been many prominent voices calling for MPs to vote on Brexit after the referendum decision was returned.
Senior lawyer Geoffrey Robertson QC said a vote was needed, because the June Referendum was "purely advisory" and was not binding.
Owen Smith, who is battling with Jeremy Corbyn for leadership of the Labour party, has also said he opposes triggering Article 50 without a further vote.
Mr Smith hopes to pressure the Prime Minister into holding another referendum on the final deal that Mr Davis and his department negotiate on leaving the bloc.
Mr Davis, whose official title is Secretary of State for Exiting the European Union, said that the "absolute minimum" he could predict would be "some legislation to deal with the European Communities Act 1972", which would need to be ratified by both Houses of Parliament.
This could cause problems for Prime Minister May's government, as a clear majority of lawmakers voted for the UK to remain part of the EU, and will need to be persuaded to vote in favour of passing this legislation.
PM Theresa May has consistently said that the will of the British people, as shown in the June Referendum result, must be upheld and "Brexit means Brexit".