Rebels in eastern Ukraine announce unilateral ceasefire
Comments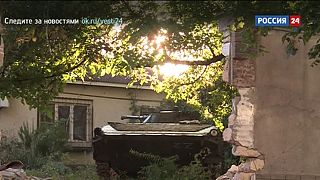 The self-proclaimed leader of a separatist-held area of Donetsk, in eastern Ukraine, has announced a unilateral ceasefire in the region, beginning on Wednesday at midnight.
An earlier truce agreed between the government and rebel factions began at the start of the school year, on September 1. Reports suggest this was largely respected until Monday (September 12).
Leader of the self-proclaimed Donetsk People's Republic Alexander Zakharchenko said he expected the Ukrainian Army to observe the ceasefire.
"We can announce the ceasefire will begin at midnight between September 14 and 15 – stop fire and any military action," the rebel leader said on Russian television.
"I call on the Ukrainian side to take it seriously and show that they are ready to do it in practice and not just make declarations."
It is the first time the separatists have put forward the idea of a ceasefire.
Kyiv has not yet responded to the announcement, but did say three soldiers had been killed in combat against Russia-backed separatist fighters between Monday and Tuesday (September 12 and 13).
Military spokesman Oleksandr Motuzyanyk said:
"The main event of the past 24 hours was a firefight between the anti-terrorist operation forces and the occupants in the direction of Luhansk. I would like to mention that military action takes place there very seldom. An enemy sabotage-and-reconnaissance group crossed the river and attacked our servicemen."
Around 15 Ukrainian Army soldiers were injured in the recent upsurge in fighting, officials say.
The German and French Foreign Ministers will be in Kyiv on Wednesday to hold talks with President Petro Poroshenko.
Germany's Frank-Walter Steinmeier told the press both Berlin and Paris have made proposals for a lasting peace in eastern Ukraine.
Poroshenko announced on Tuesday (September 13) that he expected the Ukrainian parliament to vote soon on proposed constitutional reforms that could grant autonomy to the crisis-torn east of the country.
Raging since April 2014, the conflict in eastern Ukraine has killed more than 9,500 people.