Nickel producer Norilsk admits plant spillage turned Russian river red
Comments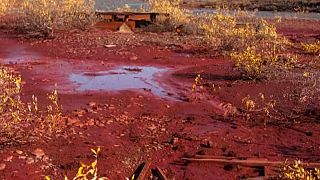 The world's biggest nickel producer has admitted that one of its plants was responsible for a river in the Russian Arctic turning red.
Norilsk Nickel says a "filtration dam" at the Nadezhda plant over flowed due to heavy rain. However, it claims there is no danger to people or wildlife.
The company last week denied any responsibility when Greenpeace Russia provided pictures from the site, showing river banks covered in crimson slime.
The environmentalist group says it is too early to judge the impact of the spillage.
Indigenous groups have accused the company of lax safety standards.
Shocking! Russian River Turns Disturbingly Red Due to #Nickel Waste #Pollutionhttps://t.co/RmWXABDtY6#waterpolution#Russia

— Krister Honkonen (@KHonkonen) September 9, 2016