Landing without wheels: cargo plane skids down Indonesian runway
Comments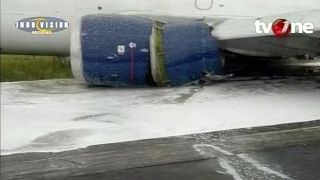 In Indonesia, a Boeing 737 cargo plane made a scary slide after its wheels collapsed upon landing on Tuesday.
The plane scraped against the runway in a cloud of smoke. It was carrying over 14 tonnes of fuel to be distributed to remote areas in Papua province.
Local authorities said there were no injuries to report, but they temporarily closed Wamena airport to remove the plane fuselage and repair damage done to the tarmac.