Israel set to sign record US military aid deal -media
Comments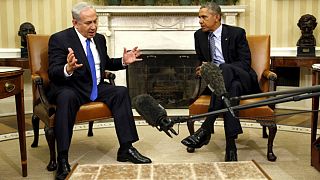 At least $38 billion (33 billion euros) of US military aid is set to pour into Israel over a decade, according to media reports.
The 10-year deal is expected to be signed this week. It would be the biggest pledge of US military support made to any country – up from around $30 billion under the current military aid agreement, which expires at the end of 2018.
But according to sources quoted by Reuters news agency, the new pact involves major concessions by Israeli Prime Minister Benjamin Netanyahu.
The aid talks took nearly 10 months and highlighted continuing tension between Netanyahu and US President Barack Obama over the nuclear deal he championed last year with Iran, Israel's archenemy.
The concessions reportedly include Israel agreeing not to seek more funds from the US Congress, as it usually does. It would also agree to spend all the money on US-made equipment, rather than use part of it to boost its own defence industry.