Back to School: who spends longest in class around Europe?
Comments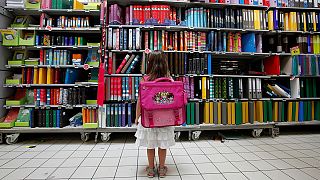 It's that time of year again, when three words can inspire fear, anxiety and relief: back to school. When proud parents post photos of cherub-like children on social media, prepped and primped for their first day back. And for some it means being stuck in a classroom more or less non-stop until next June.
We take a comparative look at what it means for children from all over the Old Continent. Though Europe is a tapestry of different cultures, traditions and languages, school term times are remarkably similar, with just a few striking exceptions.
Getting schooled
Italian and Danish children spend the most days in school at 200 per year while French youngsters are only in classrooms 162 days a year. This is split between weeks of five days in a majority of countries, a four day week is only a reality at primary level in France. For most pupils the school year starts in September, while some variations exist with children heading back in August, notably in Scotland and in some German regions. In Russia, the school term ends in late May.
In the UK, the reason that September was chosen as the start of the academic year goes back to the nineteenth century. In Victorian Britain, the long summer break was not a time of rest, it was a time to work as the school calendar was based on the agricultural calendar. In Summer, children were in the fields, working the land and harvesting fruit. Equally in Spring they were planting seeds, while in Autumn they would be harvesting again.
School's Out
When term starts so does the countdown to the next holiday. A one week Autumn break is observed in 17 European countries. Czech children get just two days, while in Switzerland it can be three weeks. Think about children in Austria and Croatia who have no autumn break to speak of. When Christmas rolls around, most young people get two weeks off. While another post-Christmas Winter break varies between countries. Poland and France take two weeks off, while there is no time off for children in Greece, Cyprus and Croatia. In France the start time of Winter holidays is even staggered across the country to spread the season for Winter sport resorts.
The all-important Summer holidays vary widely across Europe. Generally, the school year ends between May and July. The length varies from six weeks in parts of Germany, the Netherlands, the UK to up to 13 weeks in Latvia, Lithuania, Portugal, Turkey. The longest come in at 15 weeks for primary school pupils in Bulgaria.