Greek PM calls on EU to do more to resettle refugees
Comments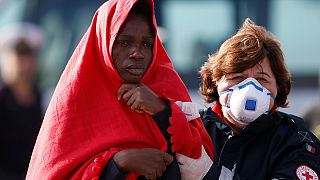 Some 3,000 migrants have been rescued in the Mediterranean over the weekend.
The arrivals highlight the ongoing migrant crisis affecting Europe. With the Balkan route cut under the EU-Turkey deal the numbers arriving in Greece across the Aegean have decreased. However, Italy has seen a spike in numbers arriving from the Mediterranean from Libya and Egypt.
Resettlement
At a news conference over the weekend, Greek Prime Minister Alexis Tsipras said that while numbers were declining Europe must do more to resettle refugees.
"From Europe's side there is an obligation that must be accelerated. Because what is this (EU-Turkey) agreement? We halt the illegal flows but we create legitimate flows. Which are the legitimate flows? It is the resettlement from Greece and the relocation directly from Turkey…and unfortunately from the 33,000 (reallocations and resettlements) promised by the EU in 2016 only 3,000 have taken place".
The EU-Turkey deal means that migrants arriving in Greece can be sent back to Turkey if they don't meet asylum requirements. In exchange the EU would increase the resettlement of Syrian refugees in Turkey.
Aid pledges
With winter approaching, the EU promised more than 100m euros in aid to Greece, doubling its emergency aid commitment, to improve conditions for asylum seekers living in run-down camps. Around 60,000 refugees are stranded in the country after borders were closed.
This is on top of money Brussels pledged to the UN World Food Program to Syrian refugees in Turkey as part of its migration deal with Ankara. More than 300m euros will be released to help refugees pay for food, housing, schooling or medical expenses.