US and Russia unveil Syria peace plan
Comments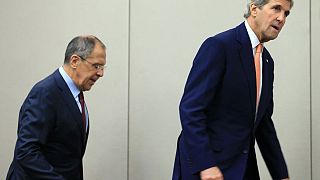 The US and Russia say they have struck a deal aimed at ending Syria's civil war.
The plan seeks to end hostilities across the country from sunset on Monday.
Washington and Moscow will also work to fight ISIL and al-Nusra fighters should the ceasefire in Syria hold seven days.
In Geneva, US Secretary of State John Kerry described the deal as a potential ''turning point''.
''If the plan is implemented in good faith, if the stakeholders do the things that are available for them to do and they're being called on to do, this can be a moment where the multilateral efforts at the diplomatic table, the negotiations, could take hold and you can really provide the people of Syria with the transition,'' Kerry said.
The plan follows days of intensive talks between the two veteran diplomats.
In reference to a joint centre to combat rebel groups both countries deem as terrorist, Russia's Sergei Lavrov said:
''We, as John has just said, are creating a joint operations centre where military and special forces from Russia and the US will treat practical questions of separating terrorists and moderate opposition. We will then coordinate joint strikes on terrorists with Russia and US Air Forces.''
Lavrov also announced that Moscow had informed the Syrian government about the details of the deal and that Damascus was ''ready to fulfil them''.