TIFF: Oliver Stone makes a comeback and Ewan McGregor debuts in Toronto
Comments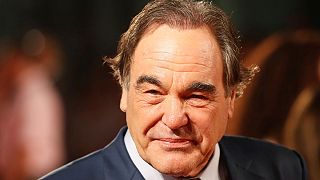 Snowden
It's been dubbed the most important and galvanizing political drama by an American filmmaker in years. Snowden by director Oliver Stone has premiered at the Toronto International Film Festival (TIFF).
A retelling of Edward Snowden life, the film stars Joseph Gordon-Levitt as the NSA whistleblower, with Nicolas Cage and Tom Wilkinson in supporting roles.
"It affects you, your generation, the coming generation above all and the dangers to your privacy and to the world in general because this whole.. what he talks about in the movie, beyond is cyber warfare, beyond mass surveillance is cyber warfare which is a form of… another form of electronic warfare, that's very serious," Stone explained.
Rhys Ifans, Shailene Woodley and even Snowden himself also star in the Oscar-winning filmmaker's work.
Rejected by a number of big studios, the film was eventually made independently.
The cast of #SnowdenMovie at the Snowden premiere tonight @TIFF_NET. #TIFF16#TIFFpic.twitter.com/eJ3vI8uUlE

— Snowden Movie (@SnowdenTheMovie) September 10, 2016
American Pastoral
Ewan McGregor presented his directorial debut at the festival. He was on both sides of the camera for American Pastoral, which also stars Jennifer Connelly and Dakota Fanning.
The adaptation of Philip Roth's Pulitzer Prize-winning book follows the life of Seymour 'Swede' Levov, a man whose daughter detonates a bomb to protest against US involvement in the Vietnam War.
Thanking @TOfilmfest 2016 for having us for the world premiere of @AmPastoralMovie -dead excited pic.twitter.com/vhfNzhl9k8

— Rupert Evans (@rupert_evans) September 3, 2016
TIFF
Now in its 41st edition,& TIFF is considered a step towards Oscar success. Previous festivals in the Canadian city have launched the likes of Dallas Buyers Club, Still Alice and Argo.
Toronto is also seen as a launch pad for films aiming at Oscar glory, with previous years seeing the premieres of Dallas Buyers Club, Still Alice and Argo.