Southern European leaders call for action to boost flagging EU growth
Comments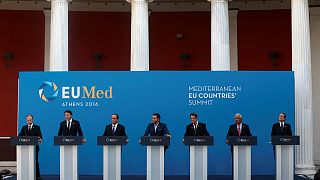 The Greek prime minister and other leaders in southern Europe have called for action to boost flagging growth, saying they needed a bigger say in Europe.
Alexis Tsipras, who is hosting his counterparts from France, Italy, Malta, Portugal, Cyprus and a representative of the Spanish government, said EU priorities needed a re-think.
"Our aim is not to focus on the number of EU states, neither more Europe nor less Europe, but a better Europe that will inspire again the European citizens," said Tsipras.
Italian Prime Minister Matteo Renzi said number-crunching needed a rethink.
"We are at a point where Europe can't just continue reeling off rules, technicalities, fiscal (issues) and austerity," Renzi said. "The Europe of tomorrow must above all be based on core values because this is what has made us great, the social Europe, the Europe of ideals, the Europe of beauty."
Renzi added: "We aspire to be an initiative of dialogue which seeks to unite Europe more, and not to divide it."
The group is often referred to as "Club Med", even though Portugal is not on the Mediterranean.
Our reporter Stamatis Giannisis reported: "By calling the Euro – Mediterranean summit Alexis Tsipras aimed to gain the support of his fellow leaders for an anti-austerity front to challenge Berlin's rhetoric for increased belt tightening. But this meeting also helps the Greek prime minister's attempt to salvage his government's sinking popularity."
Declaration of 1st EU Med. members meeting PrimeministerGR</a> in English <a href="https://t.co/VsDb0u1Use">https://t.co/VsDb0u1Use</a> <a href="https://t.co/1CRRBgynru">pic.twitter.com/1CRRBgynru</a></p>&mdash; EU & Democracy (EU_Democracy) September 9, 2016