Greece calls for pro-growth policies at 'Club Med' mini-summit
Comments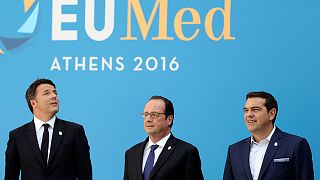 Greek prime minister Alexis Tsipras has called for pro-growth policies at a meeting of Europe's Mediterranean countries in Athens.
Leaders from France, Italy, Portugal, Malta and Cyprus gathered in the capital to discuss the problems of austerity and migration ahead of the upcoming EU summit in Bratislava.
The meeting, dubbed the 'Club Med' mini-summit aims to give weight to Europe's southern countries, many of them hard hit by current crises.
"This summit, this initiative, it is a positive step on the dialogue on the future of Europe. We're not and we don't wish to become one more little group, one more initiative which aims to divide and bring conflict in Europe," announced Tsipras at the opening of the meeting.
European leaders are hoping to show a united front at the Bratislava summit, after the UK's vote to leave the EU, and some German MPs fear the mini-summit threatens to upset the balance.