Two cats make the most of their nine lives by surviving the earthquake in central Italy
Comments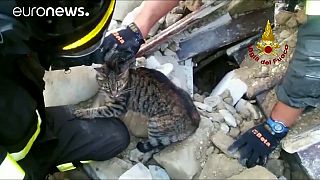 Italian fire fighters rescued a cat named Georgiana on Friday September 9, more than two weeks after an earthquake struck central Italy and killed nearly 300 people.
The rescue took place in Illica. Camilla and Olivia, who are survivors of the quake, asked volunteers from the animal protection organization OIPA to try to rescue their cat, who had been missing since the tremor.
Georgiana finally emerged during the last-chance search operation. Dehydrated but in good health.
Fire fighters also rescued a cat named Pietro on Thursday September 8.
Emergency workers accompanied the cat's owners to retrieve their belongings from their destroyed house when they heard faint meows.
The cat was taken by ambulance to a veterinary clinic.
Pietro's condition is said to be critical and he is currently undergoing treatment.
Watch the video on our Facebook Page
or on our YouTube channel
UPDATE:
Pietro is now out of danger and recovering well!
+++AGGIORNAMENTI PIETRO+++ È DA CONSIDERARENON PIÙ IN PERICOLO. DOMANI SI PROGRAMMAINTERVENTOMANDIBOLA. #bravoPietro#braviveterinari

— Enpa Onlus (@enpaonlus) September 11, 2016