International leaders condemn North Korea's latest nuclear test
Comments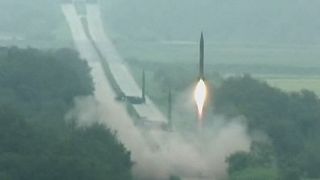 North Korea's fifth and reportedly largest nuclear test has sparked outrage in leaders the world over.
Kim Jong un was accused of "maniacal recklessness" by neighbouring South Korea, which said "such provocation will further accelerate [the North's] path to self-destruction."
Even Pyongyang's ally China has protested against the underground test, while the US and Russia issued the following joint statement:
"China, Russia, the United States, everybody shares concerns, we are trying still to monitor, to find out precisely what took place at the appropriate moment today and […] we will certainly be discussing this in the context of the United Nations, I am sure," said US Secretary of State, John Kerry.
Joining him at the UN headquarters in Geneva, Russian Foreign Minister Sergei Lavrov added:
"We are very much concerned and the resolutions of the Security Council must be implemented and we will send this message very strongly."
Moscow insisted Pyongyang cease what it called "its dangerous escapades."
The United Nations has slapped five sets of sanctions on the communist country since it began the tests in 2006.
The view from the US
US President Barack Obama openly condemned North Korea's latest nuclear test. Our correspondent Stefan Grobe outlined the atmosphere in the capital.
Stefan Grobe, Washington
"There's growing concern in Washington that it's just a matter of time until North Korea will be able to put missile development and nuclear technology together. The question now, of course, is can the Obama administration orchestrate new ways of inflicting more pain on North Korea, which is already under sweeping sanctions.
"The key area is China and Obama hopes that North Korea can be one of the few issues on which he can produce some results in corporation with Beijing, even if the Chinese are frustrated by North Korea as well. Obama has very little leverage and probably less time as the country is totally distracted by the presidential campaign.
"If there is a North Korean crisis in the weeks ahead, Donald Trump will not hesitate to blame it on Obama and his former Secretary of State, Hillary Clinton. So, the stakes are high and could very well shake things up domestically here in the United States."