Work 'urgently needed' to resolve Ukraine crisis - German FM
Comments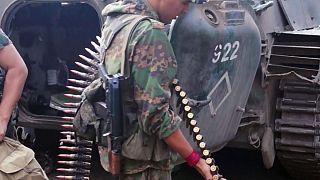 The German foreign minister has voiced his dissatisfaction over the slow pace of progress in resolving the conflict in the war-torn east of Ukraine, saying that progress was urgently needed.
Frank-Walter Steinmeier was speaking after a meeting with his Ukrainian counterpart Pavel Klimkin
"Two days ago the fighting increased but yesterday there were less clashes again," said Steinmeier. "Nevertheless all these incidents show how fragile the whole situation still is. That's why we must not reduce our efforts to try and reach more stability and give more importance to the ceasefire agreement."
Both Kyiv forces and fighters from the self-proclaimed republics of Donetsk and Luhansk accuse each other of violating ceasefire and other points of the Minsk agreement.
Ukrainian political analyst Vadim Karasev said that neither side benefits from resolving the conflict.
"A frozen conflict is good for Ukraine, at least temporarily, and for the so-called Donetsk and Luhansk People's Republics. They have a most comfortable situation. They are being supported financially by Russia. They don't have to carry out elections, or reintegrate into Ukraine," said Karasev.
[…] the government can blame the war for all their sins, including corruption, unsuccessful reforms, slow reforms, all economical and political problems," Karasev added.
FM #Steinmeier after talks w/ Ukrainian FM PavloKlimkin</a>: <a href="https://twitter.com/hashtag/Ukraine?src=hash">#Ukraine</a> can rely on Germany's support today+tomorrow!1/3 <a href="https://t.co/uNmXKmGWGB">pic.twitter.com/uNmXKmGWGB</a></p>&mdash; GermanForeignOffice (GermanyDiplo) September 8, 2016
Steinmeier said Kyiv can rely on Berlin's support in working towards an independent, democratic, prospering nation.
He plans to visit Ukraine next week to arrange a new high-level meeting between Germany, France, Ukraine and Russia.