Tusk tells May 'ball in UK court' to get Brexit rolling
Comments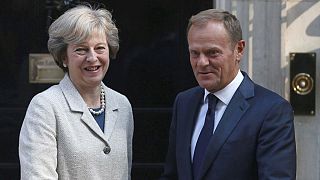 The European Council President Donald Tusk has met British Prime Minister Theresa May in London, saying "the ball is in the UK's court" to start Brexit negotiations as soon as possible.
Ball in UK court to start negotiations. In everybody's interest to start ASAP

European Council President
Our goal to establish closest possible EU-UK relations. Ball in UK court to start negotiations. In everybody's best interest to start asap

— Donald Tusk (@eucopresident) September 8, 2016
His host replied that both sides should work together to smooth Britain's exit from the EU and forge a new strong relationship.
Tusk heads the body grouping the heads of EU states and governments.
A Downing Street spokeswoman described their first meeting since May became prime minister as "friendly", saying the British leader felt the EU understood her need to take time to form a negotiating stance before triggering the formal divorce procedure.
The PM has said she won't show her hand before starting the Brexit talks. Critics have accused the government of not having a plan, while EU officials fear uncertainty over future relations is hurting investment.
Voters in the UK backed Britain's exit from the European Union by 52 to 48 percent in a referendum on June 23.
Read David Davis's full statement in the HouseofCommons</a> today <a href="https://t.co/nIIqYGfQ4X">https://t.co/nIIqYGfQ4X</a> <a href="https://t.co/CAZuXS9epr">pic.twitter.com/CAZuXS9epr</a></p>&mdash; Exiting the EU Dept (DexEUgov) 5 September 2016