Paris terror suspect Salah Abdeslam remains silent again before judge
Comments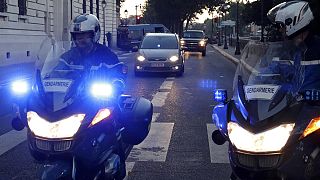 One of the suspects in the Paris terror attacks last November has been taken from prison to appear before a judge in the French capital – only to remain silent again, according to his lawyers.
Salah Abdeslam, said to be one of two surviving members of the team which carried out the attacks, was driven under tight security at dawn from his cell in a jail south of Paris to the Palais de Justice.
He was accompanied by his French and Belgian lawyers, one of whom said the suspect had chosen to exert his right to silence.
"We hope he will speak before the judges," said Belgian lawyer Sven Mary, before adding that "it won't be today".
Abdeslam, a Belgian-born French national of Moroccan descent, also failed to speak when he first appeared before a judge in May.
He is believed to be angry at round-the-clock camera surveillance in prison, which his lawyers have failed to get halted.
The 26-year-old was transferred to France in April from Belgium following his arrest the previous month in the Brussels suburb of Molenbeek – and charged with several terrorist offences.
Investigators have been trying to establish Abdeslam's exact role in last November's attacks on Parisian bars, restaurants and the Bataclan music venue in which 130 people were killed and hundreds more injured.