Clinton lashes back at Trump over his comments about Putin
Comments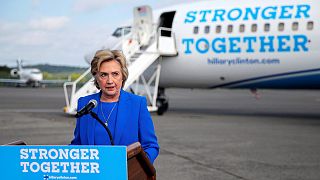 Hillary Clinton has responded to comments made by Donald Trump on US network NBC News.
The republican presidential nominee said the Russian president is a better leader than the US president Barack Obama.
"Bizarrely once again, he praised Russia's strongman Vladimir Putin, even taking the astonishing step of suggesting that he prefers the Russian president to our American president," Clinton fumed. "Now, that is not just unpatriotic and insulting to the people of our country, as well as to our commander in chief. It is scary."
Trump said that if Putin says great things about him, then he is going to say great things about the Russian president.
"The man has very strong control over a country," said Trump. "Now, it's a very different system, and I don't happen to like the system, but certainly in that system, he's been a leader. Far more than our president has been a leader."
Putin had said Trump is "absolute leader" in the US presidential race.
Speaking in December, the Russian leader said Trump is a very outstanding person, talented, without any doubt."
.SpeakerRyan</a> responds to Trump&#39;s praise of Putin. Listen below, then read our forum recap: <a href="https://t.co/m5moTGXxEF">https://t.co/m5moTGXxEF</a> <a href="https://t.co/Ig9KaSZE1H">pic.twitter.com/Ig9KaSZE1H</a></p>&mdash; NPR Politics (nprpolitics) September 8, 2016