Six dead as small aircraft crashes in FYR Macedonia
Comments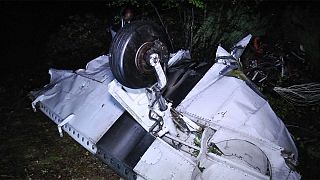 All six people onboard a private plane died on Tuesday evening when it crashed in the former Yugoslav Republic of Macedonia.
The victims are said to be four Italians and two Kosovans.
The twin-engined, small aircraft came down in a rural area, some 20 kilometres from Skopje.
Local people reported hearing a loud explosion and seeing an intense fire in the hills.
The pilot is said to have requested a refuelling stop in the Macedonian capital but not signalled any emergency.
The plane, a Piper Seneca according to Macedonian media, took off earlier from Treviso in northern Italy, reportedly bound for Pristina in Kosovo.
The cause of the crash is unknown and an investigation is underway.