Rock formation 'toppled by vandals'
Comments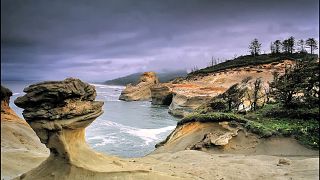 Police are investigating whether an iconic rock formation on the coast of Oregon in the US was deliberately toppled.
This is the first time I can remember someone intentionally knocking down a natural feature.
The natural feature in Cape Kiwanda, known as the 'Duckbill' and said to be one of the most popular landmarks in the area, was destroyed last week but officials at the park within which it is located originally put the incident down to erosion and the weather.
But then video emerged of a group of people apparently pulling the the rocks to the ground. The footage was filmed by a visitor called David Kalas, who said he confronted the men who told him the rock had been a safety hazard, despite being fenced off from the public.
Anyone found guilty of deliberately damaging the feature could face a maximum fine of $435, according to local media.
"This is unpredicted territory for us," said Chris Havel, a spokesman for the Oregon Parks and Recreation Deparment. "We have vandalism to facilities, and people who've cut down trees at state parks, but this is the first time I can remember someone intentionally knocking down a natural feature."
[Photo credit Oregon Parks and Recreation Department