Partial halt to North Dakota oil pipeline after Native American protest
Comments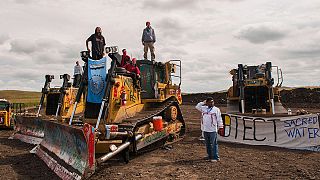 There have been mounting protests in the US over plans to build an oil pipeline in North Dakota over land that is sacred to Native Americans.
A court in Washington DC has put off until Friday (September 9) a wider legal challenge to the $3.7 billion (3.3 billion euros) project that would be the first to bring crude oil from the state's Bakken oil fields directly to Illinois.
A judge imposed a temporary, partial restraining order – which was welcomed by a lawyer for one of the tribes.
But he said it wasn't enough.
"We are disappointed with what happened here today," Jan Hasselman, representing the Standing Rock Sioux Tribe said outside the court. "We also asked him for a temporary restraining order on the land on the other side of Route 1806 and that was what was denied and that is where the sites were found on Friday. So construction can continue for now at that site even though the tribe has identified that as a place of great cultural interest."
Native Americans attending the largest gathering of tribes for more than a century say the planned pipeline crosses ancestral burial grounds and threatens water supplies.
"It seems that the man-made laws really don't apply to us because we're spiritual people but, at the same time, they use that against us all the time. And yet they don't even go by their own laws. That's the way we feel," said Chief Arvol Looking Horse, Spiritual Leader of the Sioux Nation.
Last weekend protests near the construction area turned violent. Security officers were accused of using pepper spray and guard dogs on protesters.
Dakota Access, the company building the pipeline, denies its bulldozers have destroyed important historical sites, accusing protesters of "stampeding" the area. It argues the project is cost-effective, responsible and safe – and would reduce the use of road and rail transport to meet American energy needs.
This is on ur website HillaryClinton</a>. Ur silence on the Dakota Access Pipeline is deafening. This is an emergency. <a href="https://t.co/6SvCPKwtoE">pic.twitter.com/6SvCPKwtoE</a></p>&mdash; Susan Sarandon (SusanSarandon) September 6, 2016
VIDEO Dakota Access Pipeline Co Attacks Native American Protesters with Dogs & Pepper Spray https://t.co/opaGFmyLxjpic.twitter.com/uXfFAxKkej

— Democracy Now! (@democracynow) September 4, 2016