Iran and Saudi Arabia in pilgrimage row
Comments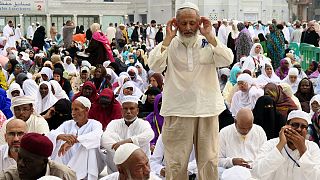 Regional rivals Saudi Arabia and Iran have had an unusually harsh exchange in the lead up to the annual haj pilgrimage in Mecca.
We have to understand that they (Iranians) are not Muslims...

Saudi Arabian Grand Mufti
On Monday, the Iranian Supreme Leader,Ayatollah Ali Khamenei accused Saudi Arabian authorities of "murder" for their management of last year's pilgrimage when at least 2,236 people died.
Haj wars: Khamenei says Saudi leaders godless murderers. Mufti says Iran leaders not Muslims https://t.co/4cuSwW496Hpic.twitter.com/WDb0VRG4pT

— Noah Browning (@Noah_Browning) September 7, 2016
Saudi Arabia's Grand Mufti, Al al-Sheikh hit back in a Saudi newspaper saying: "We have to understand that they (Iranians) are not Muslims. Their main enemies are the followers of Sunnah (Sunnis)."
Iranian President, Hassan Rouhani joined in the row adding: "They (Saudi Arabia) neither apologised nor did they pay any indemnities. They have not even sought consultation from other Muslims (for the handling of the haj) in subsequent years. They do not have any new plans for the future either."
The Hajj: An explanation for beginners https://t.co/bFgrQ3kehYpic.twitter.com/2UGjqLFDvV

— euronews (@euronews) September 7, 2016
Tensions have been on the rise since the Saudi execution of dissident Shi'ite cleric Nimr al-Nimr and the subsequent storming of the Saudi Arabian embassy in Tehran.
Iranian pilgrims will be unable to attend the haj this year after talks between the two countries broke down in May. Four hundred of last years victims were Iranian.