Hurricane Newton proves deadly for Mexico
Comments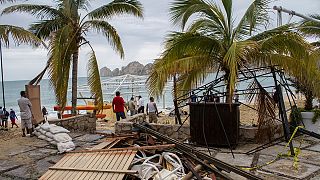 Hurricane Newton has given western Mexico a hammering but despite the first reported loss of life, the popular tourist resort of Cabo San Lucas knows it could have been a whole lot worse.
At least two people are dead and three missing after a fishing vessel was wrecked by the storm.
2 dead as Hurricane Newton slams Mexico's Los Cabos resorts https://t.co/tbTeY9K3x1pic.twitter.com/cReKhm8pNF

— Yahoo News (@YahooNews) 7 septembre 2016
Holidaymakers, meanwhile, hunkered down in their hotels.
"It felt like the hurricane was going through and then it would calm down and then later on it came really stronger after that," said US tourist Amanda Avon.
"We were hearing a lot of boats were going, the sounds of the boats were pushing around and in fact we saw, this morning, one of the boats turned over in the water from that."
The Category 1 hurricane hit Cabo San Lucas on Tuesday morning, with winds of 150 kilometres per hour. Now heading north, it has Arizona in its sights but is expected to reach the US state as a tropical storm.
The 'eye' of #HurricaneNewton as passed over the resort city of Cabo San Lucas in S Baja California. Stav D pic.twitter.com/hLmecA6glS

— BBC Weather (@bbcweather) 6 septembre 2016
As it deals with Newton, Cabo San Lucas still remembers the severe battering it took in 2014 when a stronger storm, Hurricane Odile, caused extensive damage.