Greek volunteers win 2016 Nansen Refugee Award
Comments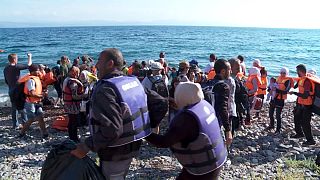 A sea rescue team and a human rights activist who helped thousands of migrants reaching Greek shores are the joint winners of this year's prestigious Nansen Refugee Award.
We could not have imagined such difficult conditions

Hellenic Rescue Team
The 2,500-strong Hellenic Rescue Team and psychologist Efi Latsoudi were awarded the prize by the UN refugee agency (UNHCR) for their tireless volunteer work during the 2015 refugee crisis, when a record number of migrants fled war and misery in the hope of a better life in Europe.
"One of the most difficult tasks we ever had, and one I will never forget, was when we had to treat a young mother, who had lost three of her children. We were all speechless. We were desperately trying to find a way to ease her pain, but there was no way," Latsoudi told Euronews.
Konstantinos Mitragas, captain and secretary-general at the Hellenic Rescue Team, said: "Our job was to save people who were not even wearing a life jacket, and you cannot call the thing they were on a boat. We were operating mainly at night and we were surrounded by babies and corpses. We could not have imagined such difficult conditions, there was no way we could plan for this."
Congratulations! Greek volunteers Efi Latsoudi + HellenicRescue</a> win our 2016 <a href="https://twitter.com/hashtag/NansenAward?src=hash">#NansenAward</a>! <a href="https://t.co/P8VYkOPGgi">https://t.co/P8VYkOPGgi</a> <a href="https://t.co/mv63K5JEex">pic.twitter.com/mv63K5JEex</a></p>&mdash; UN Refugee Agency (Refugees) 6 septembre 2016
Helping the most vulnerable
The Hellenic Rescue Team volunteers have been rescuing people from the Aegean Sea and Greek mountains since 1978. Last year, they undertook 1,035 rescue operations, saving 2,500 lives, and assisted more than 7,000 people to safety.
Meanwhile, at PIKPA village on the Greek island of Lesbos, Latsoudi, a trained psychologist, helped the most vulnerable, including children, pregnant women and disabled people.
She was one of the volunteers who in 2012 transformed the former children's summer camp into a refugee haven, with the help of local authorities. At the worst of the 2015 migration crisis, PIKPA was hosting around 600 refugees a day, for a capacity of 150, and handing out over 2,000 meals each day.
Tsellos, Konstantinos, our correspondent in Athens, said: "At the peak of the refugee crisis, in the eastern Aegean islands, Greek volunteers and rescuers faced unprecedented difficulties and witnessed human tragedies. The award was a reward for their efforts, and a motive to continue to save lives."
The difference between life and death. Saving lives in Greek waters – meet this year's #NansenAward winners https://t.co/XsluUBatJD

—

UNHCR

United Kingdom (@UNHCRUK) 6 septembre 2016
#WithRefugees
The announcement of this year's Nansen Refugee Award winners comes as UNHCR is urging governments around the world to work together to find solutions for the ongoing migration crisis through its #WithRefugees petition, which currently has over 750,000 signatures.
UNHCR's Nansen Refugee Award honours extraordinary service to the forcibly displaced. Past laureates include Eleanor Roosevelt, Graça Machel and Luciano Pavarotti.
The official award ceremony will be held on October 3 in Geneva, Switzerland.
Sign the #withrefugees petition today! https://t.co/GZf8XRPThe#UN4refugeesmigrantspic.twitter.com/uVFBsnjbjO

— UN Vienna (@UN_Vienna) 6 septembre 2016