Gabon: Bongo hits back at claims he stole disputed election
Comments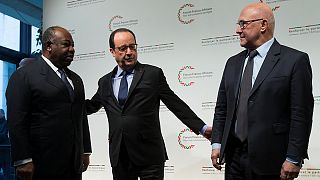 Accused of cheating at the polls in Gabon, re-elected President Ali Bongo turned the tables on Wednesday, saying that if electoral fraud was committed it was by his challenger Jean Ping.
Jean Ping has committed fraud

Re-elected Gabonese President
Bongo has shrugged off international calls for a recount of last month's disputed vote which he won by a whisker.
"Jean Ping has committed fraud," Bongo said in an interview with France's Europe 1 radio on Wednesday.
"I didn't organise anything, I didn't put in place a network of cyber criminals in order to rig the vote."
As Parliament resumed on Tuesday, it wasn't quite business as usual. Deputies met in the Senate as their own National Assembly building was burnt down in protests after the election results were announced.
Demonstrators set #Gabon parliament on fire. Photo @mlongaripic.twitter.com/7Do3VYeuQJ

— AFP Photo Department (@AFPphoto) 31 août 2016
"The Gabonese people are asking themselves many questions and expressing deep fears," National Assembly Speaker, Richard Auguste Onouviet told the Chamber.
"Nothing, I repeat, nothing can justify burning down the National Assembly."
At least six people died in the post-election violence although opposition leader Ping has put the figure as high as 100.
GABON - Anger in Libreville over Bongo reelection photos by @mlongari@AFPphotopic.twitter.com/lCsT3e0ImO

— AFP Photo Department (@AFPphoto) 1 septembre 2016
Ping, a former diplomat, is adamant the vote was stolen by Bongo, whose family has ruled Gabon for decades.
An EU observer mission says it has found anomalies in the results. France, the former colonial ruler of Gabon, has said a recount would be wise.
Asked in a pre-recorded interview broadcast on Wednesday whether he would permit a recount, Bongo told France's RTL radio: "What people should be asking me to do is apply the law. I cannot violate the law. As far as a recount is concerned … that's done at the level of the Constitutional Court."
Ping has said he has no faith in the constitutional court, claiming it is tied to the Bongo family. He says he wants a recount done under international supervision before any appeal to that court.