Gabon: Ali Bongo sworn in after acrimonious election victory
Comments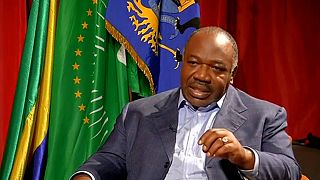 Gabonese President Ali Bongo has been sworn in for a second term. His narrow election victory of less than 6,000 votes was shrouded in claims of foul-play from international observers.
Bongo's family has ruled the oil-producing state in Central Africa for 49 years.
Gabon increases security after court upholds Bongo poll win https://t.co/reNsTyXAOepic.twitter.com/aTp0r0wcH8

— Reuters Top News (@Reuters) September 24, 2016
Calls for a recount
France called for a recount and the EU said it detected anomalies in Bongo's stronghold where he won 95 percent of the vote on a 99.9 percent turnout. Opposition leader Jean Ping insists the election was rigged.
As #Gabon high court upholds results in presidential poll, Ban Ki-moon says UN</a> will support democratic process. <a href="https://t.co/mAm2QgIbXd">https://t.co/mAm2QgIbXd</a> <a href="https://t.co/C1q1ZPkOfi">pic.twitter.com/C1q1ZPkOfi</a></p>&mdash; UN News Centre (UN_News_Centre) September 25, 2016
Locals' reactions
Local man, Auriol Ondgibi told reporters: "All the politicians have done, is for themselves. All we are doing is waiting for the country to calm down. We all have families, little brothers and children and we just want them to go to school and for politicians to leave the country alone."
Two other women did not seem keen on opposition leader Jean Ping either. Nadege Eyang said: "He should make way for the young people. We are tired of the old. They have too many old ideas. We want to move forward. He should just accept defeat."
These comments may be born of the fact that Gabon's population is relatively young with 35.5% of its population under 15 years of age and only 4.3% of its population over 65 years old.
A 'Low key' ceremony
Fears of violence when the Constitutional Court declined Ping's petition and ratified the result have not materialised but Tuesday's inauguration ceremony was kept low-key in an apparent attempt to forestall any possible trouble.
Jean Ping rejects Gabon court ruling on Ali Bongo election win https://t.co/VPhjR1db01pic.twitter.com/tza1FofXwm

— Al Jazeera News (@AJENews) September 24, 2016