Afghan forces end Kabul aid agency siege after gun battle
Comments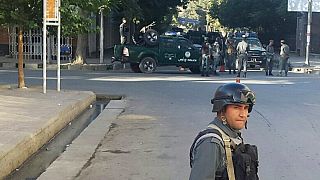 Afghan security forces in Kabul have been battling gunmen who stormed an international aid group's offices after a car bomb attack.
The centre of the capital was sealed off in the wake of the assault on the humanitarian agency CARE.
After a 10-hour siege the interior ministry said the three attackers had been killed along with a security guard while more than 40 people had been rescued.
"It was 11 o'clock at night and I was walking in the area when suddenly there was a big explosion. Right after that there was a huge flame and everything was covered with smoke, and then Afghan security forces arrived and blocked the area," said one eyewitness, security guard Rafi Ullah.
On Monday at least 40 people were killed and more than 100 injured when twin suicide bombs tore through a crowd in a busy area near the Defence Ministry.
One bomber targeted security forces and civilians who rushed to help victims of the first explosion.
An army general and two senior police commanders were among the dead, a Defence Ministry official said. Another official said the deputy head of President Ashraf Ghani's personal protection force had also been killed.
The Taliban said it was responsible.
#AFG Exclusive photos shared with trtworld</a> shows after math of last night&#39;s attack against Care international. <a href="https://t.co/r0bvQ1mfmp">pic.twitter.com/r0bvQ1mfmp</a></p>&mdash; Bilal Sarwary (bsarwary) September 6, 2016
#Kabul attack ended by gunning down 3 attackers and a civilian casualty
The target was CARENGO building (pic) pic.twitter.com/ysEbwBf0MG

— Zmaryalai Abasin (@AbasinZ) September 6, 2016
Update: International charity CARE</a> based in <a href="https://twitter.com/hashtag/Kabul?src=hash">#Kabul</a> <a href="https://twitter.com/hashtag/Afghanistan?src=hash">#Afghanistan</a> hit with bomb & gunfire, luckily only 6 injured. <a href="https://t.co/hamznQxll6">pic.twitter.com/hamznQxll6</a></p>&mdash; Michael L. (ArimDerVelt) September 6, 2016
Street damage in Shar-e-Now #Kabul from bomb. Attack ended this morning in Care International. All staff are safe. pic.twitter.com/IhBUFuSgvS

— Catherine James (@cathjam) September 6, 2016
#Kabul attack aftermath. Commercial buildings around the area badly damaged. Photo Inayat Shaheer <a href="https://t.co/jwuKqPRT8g">pic.twitter.com/jwuKqPRT8g</a></p>&mdash; Syed Anwar (Sayed_Anwer) September 6, 2016