South Sudan accepts new UN-backed peacekeeping force
Comments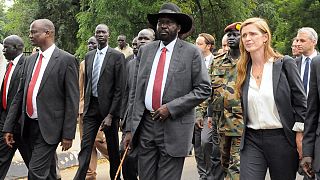 Under increasing international pressure, South Sudan has agreed to accept 4,000 extra peacekeepers.
President Salva Kiir initially refused extra troops as breaching national sovereignty. But the UN Security Council threatened an arms embargo if the government refused to cooperate.
"We just need to do it in a very urgent way because, of course as we all know, the population is vulnerable in different parts of the country," explained Samantha Power, Permanent Representative of the United States to the United Nations:
Fresh fighting in July broke a fragile truce in place since August 2015, it left 300 dead and hundreds more wounded.
Tens of thousands of people have been living in camps during three years of fighting between forces loyal to Kiir and rebels.