Venezuelan president chased by pot-banging protesters
Comments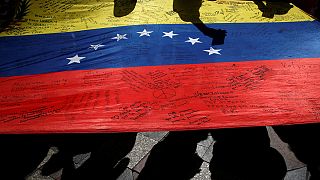 A video has emerged appearing to show Venezuela's president being chased by an angry mob.
Grainy mobile phone footage purportedly showed Nicolas Maduro being jeered and pursued by dozens of pot-banging protesters on the Island of Margarita, some 40 kilometres from the mainland.
Activists say more than 30 people were briefly detained following the incident on Friday while a local lawyer has still not been released.
The Venezuelan government has not commented on the alleged confrontation, but the country's Information Minister Luis Marcano, accusing the opposition of manipulation, published a video on Twitter showing Maduro blowing kisses and being cheered.
Maduro had apparently been on the holiday island to inspect a state housing project.
The incident follows Thursday's mass rallies in Caracas.
The opposition say more than a million people marched in the Venezuelan capital in an effort to pressure the country's electoral authorities into allowing a recall referendum.