Bangladesh hangs party leader convicted of war crimes
Comments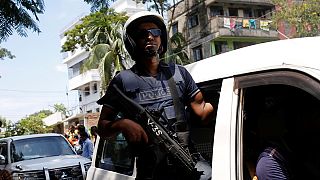 Bangladesh has hanged an opposition party leader convicted of war crimes.
Mir Quasem Ali, a media tycoon and key financier of the Jamaat-e-Islami party, was executed for murder, confinement, torture and incitement to religious hatred during the 1971 war of independence from Pakistan.
Ali did not ask for presidential clemency, paving the way for his hanging.
Bangladesh: Execution of Mir Quasem Ali will not deliver justice pic.twitter.com/emfiIq0IjG

— amnestypress (@amnestypress) September 3, 2016
"Today I am very happy as he is hanged, the citizens of the country are also happy," said war veteran Abul Kalam Azad. "I feel like the nation is free from humiliation […] and our national flag will remain up."
Official figures show about three million people were killed and thousands of women were raped during the nine-month war. But the party denies its leaders committed any atrocities.
The war crimes tribunal set up by Prime Minister Sheikh Hasina in 2010 has sparked violence and drawn criticism from opposition politicians, who say it is victimising her political opponents. The government denies the accusations.
Human rights groups say the tribunal's procedures fall short of international standards, but the government rejects that assertion, and the trials are supported by many Bangladeshis.
35 members of Europarl_EN</a> urge Bangladesh Premier to stop Mir Quasem&#39;s execution. <a href="https://twitter.com/hashtag/FreeMirQuasemAli?src=hash">#FreeMirQuasemAli</a> <a href="https://t.co/Xx3YaxrYRz">pic.twitter.com/Xx3YaxrYRz</a></p>&mdash; Islami Chhatrashibir (info_shibir) September 1, 2016