Philippines: blast in Davao City kills at least 12
Comments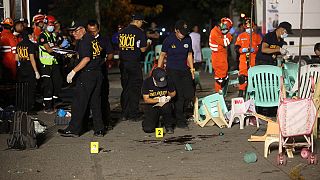 Police in the Philippines are investigating the cause of an explosion in Davao City.
The blast at a packed night market killed at least 12 people and wounded dozens more.
The country's president was in the city at the time but was not hurt.
Rodrigo Duterte had shrugged off rumours on Friday of a plot to assassinate him, saying such threats were to be expected.
His election has prompted a spike in drug-related killings. There have been more than 1,000 executions since May during his war on illegal drugs.