Kurds hold mass rally in Cologne
Comments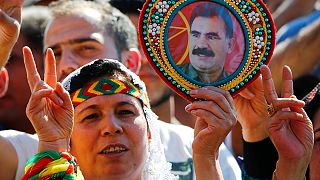 Ethnic Kurds have staged a huge rally in Cologne against the politics of Turkish President Recep Tayyip Erdogan.
They are angry about Turkey's military intervention in northern Syria and what they say is Erdogan's "dictatorial behaviour", particularly in the wake of July's coup.
Thousandsof KurdsprotestagainstErdoganin Cologne https://t.co/nDgOBnhEY6pic.twitter.com/n0mQpq4Rqi

— Reuters Top News (@Reuters) September 3, 2016


Was it a big rally?
Yes.
Police in the German city think at least 25,000 people turned out in protest.
Many carried flags bearing the image of jailed PKK leader, Abdullah Ocalan, demanding he be freed.
The PKK, or Kurdistan Workers' Party, is considered a terrorist organisation by the EU and US.
Was there any trouble?
No.
Extra police were drafted in but the demonstration passed off peacefully.
Does Germany have a big Turkish community?
Yes.
Germany is home to around three million people of Turkish origin.
Roughly one in four are ethnic Kurds.