Spain tries to form a government for the second time this week
Comments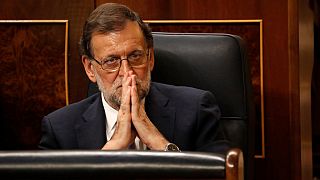 Spain's acting Prime Minister will make his second attempt this week to win the confidence of parliament to form a government.
Commentators say Conservative leader Mariano Rajoy's likely failure will start the countdown towards another election.
What happened earlier this week?
On Wednesday, Rajoy – who is leader of Spain's centre-right People's Party or PP – stumbled at the first hurdle to try and win a second term.
He fell six votes short of the 176 he needed for an absolute majority in the 350-seat assembly.
Spain just took a big step closer to a third election in the space of a year https://t.co/PYttpJ8sUv

—

POLITICO

Europe (@POLITICOEurope) August 31, 2016
So what will happen on Friday?
A simple majority would enable Rajoy to form a PP-led minority government.
He would need just 11 abstentions to win this time.
However, opponents – including the Socialists who voted unanimously against him earlier this week, have so far shown no signs of giving ground.
Morning everyone. Second-round vote for Rajoy this evening. Debate begins at 7 p.m.. He is expected to lose again. https://t.co/nLGaFYQy0J

— The Spain Report (@thespainreport) September 2, 2016
In March, Spain's front pages blamed Sánchez for Sánchez's failure. Today, they blamed him for Rajoy's failure too. pic.twitter.com/W3elbil1Bu

— The Spain Report (@thespainreport) September 1, 2016
What if Rajoy loses Friday's vote?
This is what is being predicted.
He and other candidates would have until October 31 to try and form a government before another election is automatically called.
The next ballot could fall on Christmas Day.
Opinion polls so far suggest a third election would deliver another hung parliament.
Why is this significant?
After inconclusive national elections in December and then in June, the stand-off between rival parties is edging closer to another ballot.
The concern is the eight-month political deadlock is already threatening Spain's economic recovery.
The Business
Spain has managed a strong three-year rebound from recession. The country has posted one of the highest growth rates in the euro zone in the second quarter.
Bond yields have crept higher this week. Investors have become more cautious which, in turn, has increased the government's cost of borrowing.
"Sería ridículo y una tortura", las palabras de Luis de Guindos sobre unas nuevas elecciones https://t.co/jdhwQ4NPRapic.twitter.com/7xZVd84Mf2

— Vozpópuli (@voz_populi) September 1, 2016
Acting Economy Minister Luis de Guindos warned on Thursday that the economy could slow down as investments are frozen due to the uncertainty.
Spain will also fail to meet its budget commitments for 2017 unless it gets a stable government soon, de Guindos added.