Dozens more Zika cases identified in Singapore
Comments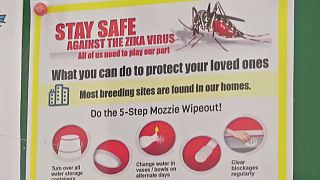 More cases identified in Singapore
Fears over business, tourism
Find out how to protect yourself from infection
At least 38 new cases of locally-transmitted Zika virus infection have been reported in Singapore.
The authorities in the regional financial centre and transit hub say they have identified 189 people with the virus.
This includes two pregnant women.
The first locally-transmitted Zika infection in Singapore was reported on Saturday.
Singapore is the only Asian country with active transmission of the mosquito-born virus, which generally causes mild symptoms but can lead to serious birth defects in unborn children.
What kind of defects?
Zika infections in pregnant women have been shown to cause microcephaly – a severe birth defect in which the head and brain are undersized – as well as other brain abnormalities.
The connection between Zika and microcephaly first came to light last year in Brazil.
The South-American country has since confirmed more than 1,800 cases of microcephaly.
How is the virus transmitted?
The Zika virus is primarily transmitted to people through the bite of an infected Aedes mosquito.
The insect also transmits chikungunya, dengue and yellow fever.
The Culex mosquito may also transmit Zika.
An estimated 80% of people infected have no symptoms.
The virus was first identified in 1947.
Is there much concern in Singapore?
Some.
Many of Singapore's five million people are covering up and staying indoors to avoid being
bitten by mosquitos.
Singapore in battle mode against Zika after infections rise https://t.co/Yhnj92xTgo#worldnews#news#breakingnews

—

WORDLNEWS

(@Worldnews_top) September 2, 2016
The authorities have stepped up spraying insecticide and clearing stagnant water to prevent mosquito breeding.
However, many people say they plan to avoid the city's popular outdoor food centres to avoid getting bitten.
Pharmacies and supermarkets have reported a surge in mosquito repellents over the last week.
Several countries, including the US and Australia, have advised pregnant women or those trying to conceive, not to visit.
#Singapore represents 'role model' in handling of #Zika cases: WHOhttps://t.co/29s14SSDPxpic.twitter.com/PBP1SajqgN

— The Straits Times (@STcom) September 2, 2016
Pokemon Gone
Some fans of Nintendo's Pokemon Go mobile game are also becoming more cautious.
Crowds at outdoor Pokemon hotspots around the city are likely to be thinner.
"I am still ok with outdoors, just not damp and dirty parks," said 19-year-old gamer Nelson Ho.
The Business
The outbreak coincides with a slowdown in trade in Singapore.
Commentators say worries about Zika could further crimp overall retail sales.
"If it continues, people will generally not want to go out, so all the retail sectors will be slowing down," said economist Francis Tan.
Zika outbreak will not sting Singapore's economy: Analysts – Channel NewsAsia https://t.co/24HOldxRMl

— Kevin Mitchell (@BTCNewsFeed) September 2, 2016
Tourism – a mainstay of Singapore's economy – is also a concern. The Formula One Grand Prix race is due to start in two weeks.
"It will certainly create a bit of caution in the minds of tourists and they may think twice about it," said consultant Jonathan Galaviz. "But I don't see Zika standing in the way of a successful F1 event or tourism flows in the short term."
Tourism arrivals topped eight million in the first half of 2016, around one million more than a year ago.
How can I protect myself from infection?
The best protection is preventing mosquito bites, according to the World Health Organisation (WHO).
Women who are pregnant or planning to conceive should take extra precautions, along with their partners.
These include:
Covering up with light coloured clothing
Using insect repellent preferably containing

DEET

Using physical barriers like screens or treated netting
Sleeping under mosquito nets
Identifying and eliminating potential mosquito breeding sites
(Source: World Health Organisation)
What they are saying
"I'm not going to let her go outside much until Zika dies down. Usually during short holidays we go outside to the parks and go cycling, but now I will refrain," – Resident Nat Burnatay describes how she will protect her six-year-old daughter.
"The virus is extending beyond the square that was drawn out. We have re-drawn the battle lines. We have to accept the whole country is at risk," – Leong Hoe Nam, infectious disease specialist at Mount Elizabeth Novena hospital in Singapore.