Third time lucky: Macedonian politicians agree new election date
Comments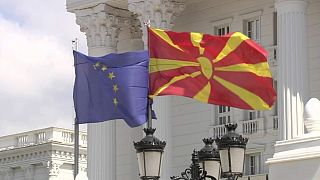 Political leaders in the former Yugoslav Republic of Macedonia are hoping for 'third time lucky' after agreeing a date in December for an early parliamentary election.
It follows two failed attempts to go to the polls this year.
The small Balkan republic has been in turmoil since February 2015 when a wiretapping scandal rocked the corridors of power.
The deal foresees a temporary bipartisan government prior to the vote in the EU candidate country, to ensure the ballot is free and fair.
The Macedonian parliament is to officially call the election, planned for December 11.
Macedonia sets new election date for December — after it failed to hold vote twice this year https://t.co/i0RXGxGMzepic.twitter.com/lmHHYmdnXt

— POLITICO Europe (@POLITICOEurope) 1 septembre 2016