Gabon's disputed election plunges it into 'deep crisis'
Comments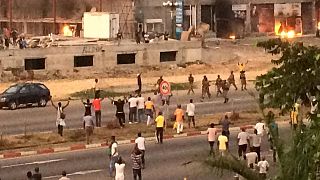 Riots have erupted in Gabon's capital Libreville, as anger boils over the country's disputed presidential election.
Demonstrators clashed with police and part of the parliament building was set on fire.
Ali Bongo's landed a second, seven year term in a vote critics claim was rigged.
Opposition leader Jean Ping says the presidential guard and police have attacked his party's headquarters – leaving two dead and many wounded.
Former colonial power, France, is calling for calm.
"France is concerned by the situation in Gabon, it wants the vote of the Gabonese people to be respected, and believes that if necessary the result should be contested through a judicial process and not through violence. And to send a strong signal of transparency," said Jean Marc Ayrault, French Foreign Minister.
"We're also asking that the election results be published polling station by polling station."
Ali Bongo took power in 2009, on the death of his father, who had ruled for 42 years. The latest election has seen Bongo win with a narrow margin, 49.8 per cent of the vote.
The European Union says the election results have plunged the African country into a "deep crisis" and is supporting France's calls for verification of each polling station result.